Doing a covid test in Guatemala – a quick guide
Doing a covid test in Guatemala is no big deal! Really! But due to fact that you simply have to know where exactly you go and what the procedure is going to be, I decided to explain my experiences of doing a covid test in Guatemala in a very detailed way.
Since the start of the pandemic in Central America, I have been doing several covid tests in Guatemala. Although it may take some time, sometimes even days, in other countries to be able to get an appointment and finally receive the results, Guatemala is super quick and reliable!
This article was updated in 05/2022.
Doing a covid test in Guatemala in a hospital or laboratory
Although there are several mobile test stations, you should definitely go to a laboratory or a hospital in order to do a covid test.
Almost every hospital offers a covid test in the capital. In general, there are 3 possibilities:
1) private hospital
There are quite a lot of private hospitals in Guatemala City which offer that service, such as the El Pilar. The only thing you have to do is call them, make an appointment, get there, pay, get tested and leave. The results will be sent to you by e-mail several hours later.
Cost of the covid test: approximately Q900 (98 Euro, 115 USD)
2) public hospital
The difference between the private and the public hospital is that the covid test in the public hospitals is free. That being said, this also involves long queuing in order to get tested.
As for now, I have only seen chaotic pictures of crowds in public hospitals on social media and I do not have any personal experience with doing a covid test in a public hospital. Therefore, I do not recommend going to a public hospital.
Cost of the covid test: free
3) laboratory / clinic
The third option you have is going to one of the many laboratories in Guatemala City, such as Blue Medical, Tecniscan or Casa Medica. During my time in Guatemala, I have been to all those clinics before (not only for a covid test) but I definitely prefer going to Blue Medical, simply because of the fact that they offer appointments and are open 24/7.
Of course, you can also go to Blue Medical without making an appointment. Making an appointment is just a personal preference as I prefer to avoid queuing.
Cost of the covid tests: Q295 – Q645 (max. 70 Euro, 83 USD)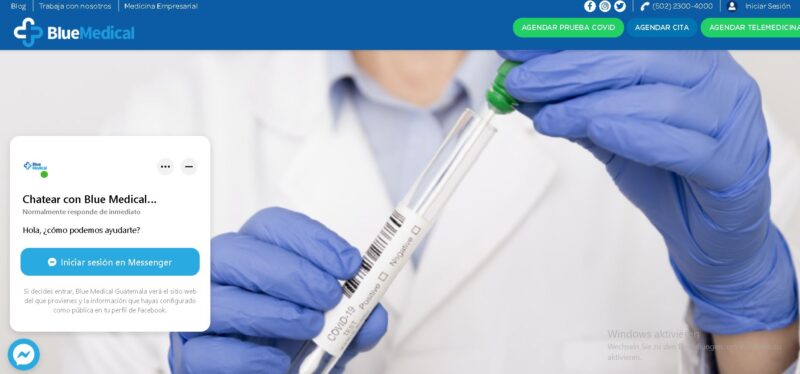 Doing a covid test in Guatemala at Blue Medical
In order to get an appointment at Blue Medical, visit their website and click "agenda prueba covid" or "agenda cita" at the head of the landing page.
First, decide in which clinic you want to go – there are about 17 Blue Medical clinics. You will most likely want to go to one of the following ones:
Zone 11 (Miraflores, Majadas),
Zone 13 (Las Americas),
Zone 14/15 (Vista Hermosa),
on the way to Antigua (San Cristobal)
Camino Real (Antigua)
Having decided on the specific clinic, an agenda opens and you may decide on a date and time when to get your appointment. Having decided on that, you have to inform Blue Medical about the specific test you need.
There are four possibilities:
1) Prueba Antigeno
Type: antigene test
Time: 1 hour
Cost: Q295*
2) Prueba Antigeno Nasal
Type: antigene test
time: 1 hour
cost: 325*
3) Hisopado PCR COVID-19
Type: PCR
Time: less than 8 hours
Cost: Q645*
4) PCR Influenza A&B
Type: influenza test
Time: less than 24 hours
Cost: Q990*
*prices may vary depending on the season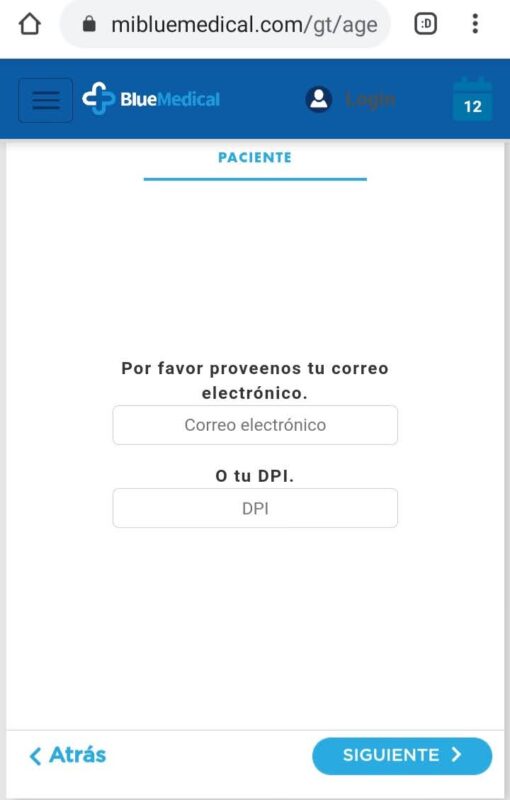 Having chosen the type of test, you proceed with giving Blue Medical your email address or DPI. As you are most likely not in possession of a DPI, just type your email address, followed by several other necessary information and personal data, such as mobile phone number, date of birth etc. Once you finished everything, you will either receive a WhatsApp message, an email or both with a confirmation of your appointment.
Note: Depending on how much time there is between making the appointment and the appointment itself, Blue Medical may call you one day prior to your appointment to remind you on the appointment.
Don't forget your passport!
Once you get to Blue Medical, your temperature is taken at the entrance. You will also receive some paperwork to be filled out (name, address, reason for doing the test, information about past and present health situation). These documents are handed over to the front desk. Once you paid for the test, your passport is copied and you are guided to the laboratory for the covid test to be taken.
Congratulations, you're done!
The only thing left to do for you is wait for the results which will be sent to your email address within less than 8 hours!
Note: Until now, I have always received my results within 5 hours, no matter the time of day I took the test.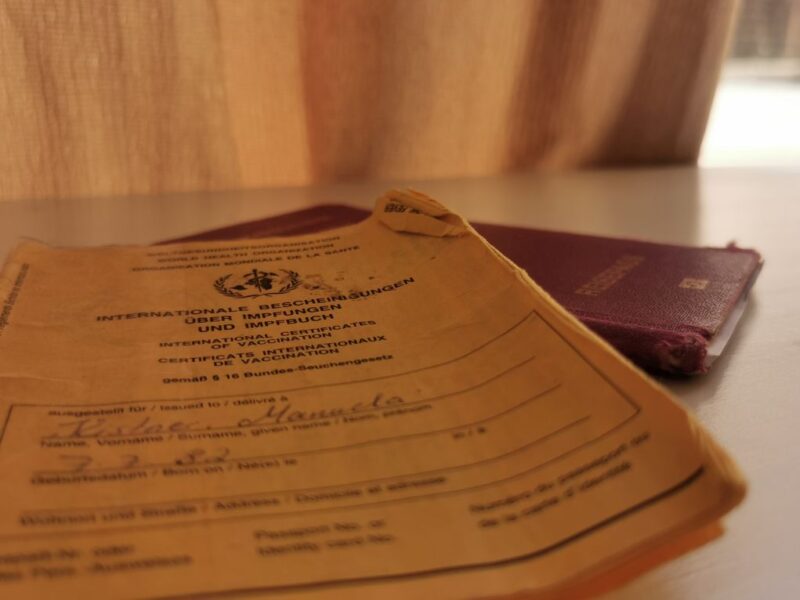 Update 11/2021
The procedure above has not changed a bit and is still accurate.
Some weeks ago, Blue Medical introduced a survey to be completed before your visit or when you are in the clinic. If you manage to complete the survey before your appointment (there is no need to print anything, you can complete everything online), they will have it at hand when you come to your appointment.
If you bring a photo of your plane ticket, you will receive a discount on your test – either the flight confirmation (email, photo) or the boarding pass are absolutely enough. My PCR cost Q575 instead of Q645.
Having basically prepared everything beforehand, my last appointment took exactly 13 minutes.
Doing a covid test in other laboratories in Guatemala City – prices
You will find other possibilities to do a covid test in Guatemala City, e.g. Medicina Integral / Hisopados in Distrito Miraflores. My research that I did on contacting several labs for prices for PCR tests showed that the PCR tests in Blue Medical are the cheapest ones. Nevertheless, there are also laboratories that do antigene tests for a lower price – but I dont have experience with those. If you went there, let me know and I will update my article.
Doing a covid test at the airport La Aurora (Update 05/2022)
Officially, there is a lab for doing quick tests before departure for 25USD (the cheapest option in Guatemala!). I myself had me already tested there before a flight. The procedure is effective and quick (at least that was the case when I was there) and you will be handed out a printed test result within 30 to 60 minutes, depending on the amount of people there.
Unfortunately, the past has also shown that the lab sometimes closed from one day to the other without any public information.
Doing a covid test in Antigua
Because of the fact that there are various people who keep asking about the possibility of doing a covid test in Antigua, I'd like to focus on this question, too.
The Hotel Camino Real in Antigua collaborates with Blue Medical and does covid-testing Monday to Friday from 7am to 7pm. You can call them in advance or send them a WhatsApp message (+502 7873 7000). They are located in 7a calle Poniente 33b Antigua.
Doing a covid test in Flores
There are various official clinics where you are supposed to be able to do a covid test when traveling in Flores. Most of the clinics are not on the island but in Santa Elena, e.g. LABORATORIO CLINICO SEPROLAB (Santa Elena), LABORATORIO CLINICO,CENTRO DE SALUD INTEGRAL BIOIXCHA (Santa Elena) and LABORATORIO CLINICO, LABORATORIO SANTA SOFIA.
An official list of clinics can be found here: http://www.exteriores.gob.es/Embajadas/GUATEMALA/es/Noticias/Documents/lab-23112020.pdf
Please be aware that this is official information from the government – I cannot guarantee that the laboratories are really offering tests.
Be it as it may, if you have the possibility, I definitely recommend doing the test at Blue Medical in the capital. For various reasons, all my friends who live in Antigua or El Paredon at the beach, come to the capital to do the test.