Doing a covid test in Suriname and Guyana
When I started searching for information about Suriname and Guyana, I was almost unable to find anything. At least, concerning individual traveling in those two countries. Finding information about doing a covid test in Suriname and Guyana was also hard to get. That is why I decided to write this article. As a matter of fact, it is quite easy to do a covid test in both countries, Suriname and Guyana – if you know where to go.
Whereas it wouldnt have been necessary to do a covid test to be able to enter Guatemala, it was necessary to do one because I was flying in and through Miami. In order to be allowed to enter the USA, a complete vaccine and a covid test (either PCR or quick test) is mandatory.
Because of the fact that I knew I wouldnt have to do another and another and another covid test when flying from Miami to Guatemala, I had decided to spend some days in Miami for various reasons: shopping stuff that I would be unable to get in Guatemala, quick sightseeing and getting my booster vaccine. Whereas the booster vaccine didnt matter that much to me personally, I feared new restrictions in the coming weeks, e.g. being unable to travel 9 months of the last vaccine (there were already going on about this and with my vaccine 6 months ago, I knew the transit in Miami would be my last chance to get a Biontech vaccine), needing a PCR test in order to get to Germany, countries introducing mandatory booster vaccines for entry and the like.
Disclaimer: I wrote this article according to my best and own personal knowledge. I cannot guarantee successful procedure. Also restrictions concerning the entry in specific countries may change any time.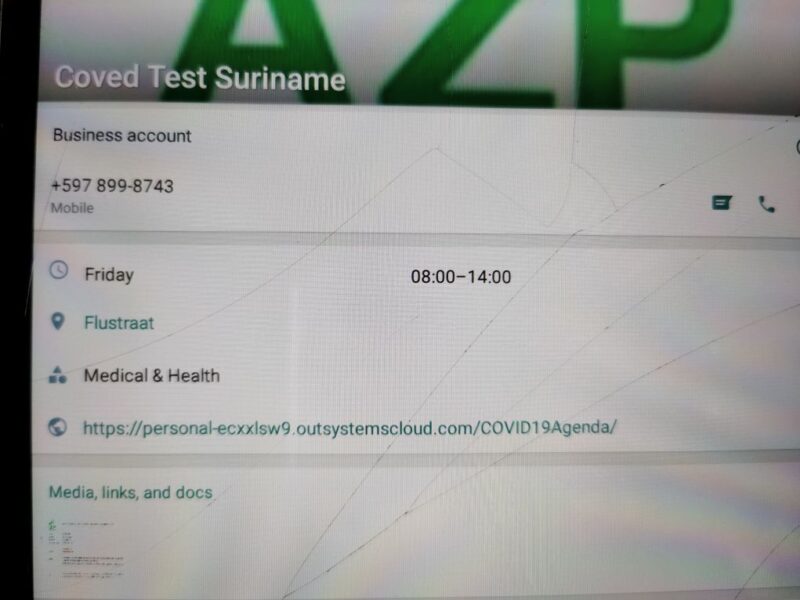 Doing a covid test in Suriname
With that said, in today's article, I will focus on giving you all the information about doing covid tests in both, Suriname and Guyana. Let's start with doing a covid test in Suriname.
Scheduling a covid test in Suriname
In order to schedule a covid test in Suriname, simply send a WhatsApp message to the following number: +597 899 8743.
This is AZP, a clinic in the city of Paramaribo which is open until 8pm every day and do covid tests in various time slots. They simply need the following information from you beforehand:
complete name
birthday
passport number
reason for doing the test
test type
I scheduled my covid test in Suriname during my stay in Danpaati Eco Lodge. Due to the fact that I didnt have mobile data for Suriname, the lodge let me use their phone number.
Having successfully scheduled the appointment for 2 days later for a quick test, I received a confirmation with the directions and a time slot during which I was supposed to be there.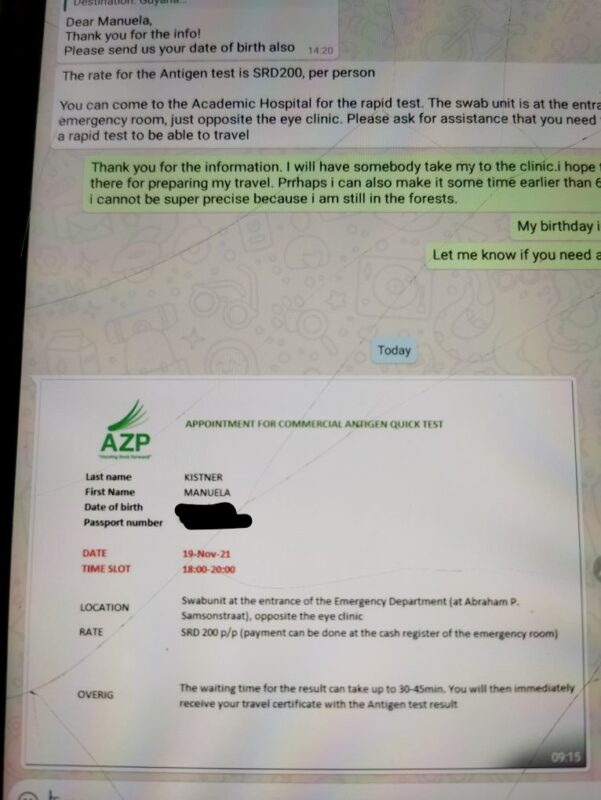 Cost of a covid test in Suriname
The quick test in the Academic hospital in Paramaribo was 200SD (10 USD). The payment was supposed to be done at the cashier in cash. Please be aware that they do NOT take credit cards. Luckily (I was unable to get any cash at the ATMs with may credit cards), they also take USD.
Location of the covid test station
Said clinic is part of the Academic Hospital in Abraham P. Samsonstraat; the swabunit itself is found right on the left side at the entrance of the Emergency Department, opposite the eye clinic, which is on the right side.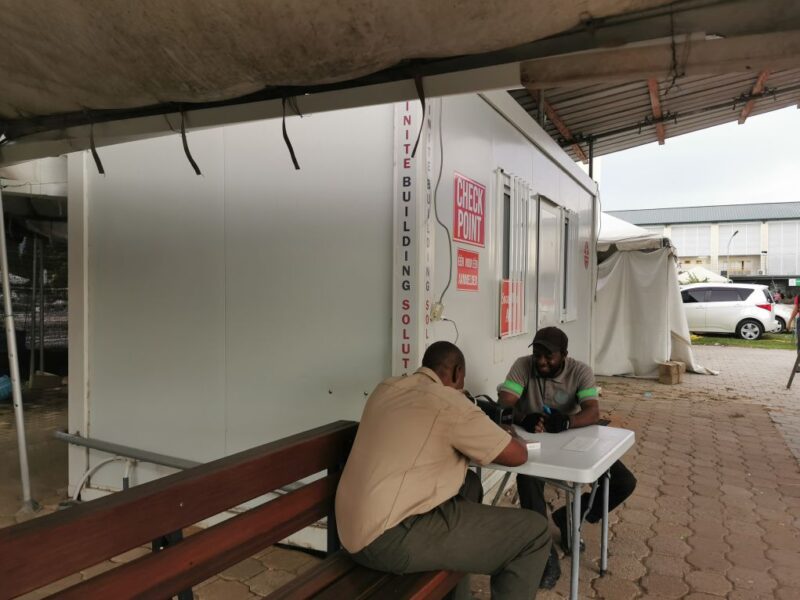 Procedure of doing a covid test in Suriname
Once I arrived in Paramaribo, my shuttle directly took me to the clinic. I had received a time slot between 6 and 8pm beforehand.
Admittedly, you really do well sticking to the given time slot. As a matter of fact, I realized that the swabunit of the hospital is closed in the afternoon and they only open after 6pm again.
Once there, register at the small office container directly at the entrance opposite the eye clinic. It is enough to show them the confirmation you received via WhatsApp.
For the payment, you have to walk all the way down into the direction of the main entrance. There, right-hand side, you will find the cashier. The quick test can be paid in USD (10 USD), Euro (8 Euro) or SD (200). With the receipt, you go back to the office container and have your test done.
They will probably indicate that you will now have to wait for about an hour to receive your test results – or they changed that because I escalated in front of the container. 😉 Having told them that the confirmation I received stated a waiting time of about 30 minutes, I didnt understand the reason for having to wait another 60 minutes – with my driver waiting for me at the hospital entrance and me not being able to receive any cash in order to pay a taxi.
Only after discussing this issue with them for 10 minutes, did they agree on sending me my results per mail.
Although I made sure they spelled my name and email address correctly, I did not receive the test results, which is why I sent them a WhatsApp message about 1,5 hours after the test. Turned out – at least, that is what they told me – they sent the results per mail but I never received them (also not in the spam). So, there probably was still a typo in the address. Later, I would realize that this is not a surprise, because not a single person in Suriname and Guyana was able to pronounce my last name correctly. They, in turn, always assumed that my last name was actually my first name, a typo and my real name was "Christiane".
In the end, everything worked out and the printed document of the covid test result was not needed – neither in Suriname for the check in nor in Guyana for immigration.
What an intense day
Quite an intense day: 2 hours on a boat from Danpaati River Lodge to Atjoni, 2,5 hours in the car from Atjoni to Paramaribo, 1st try to do the covid test, check in at the hotel, 2nd try for the covid test, getting the information that Kaieteur wouldn't be possible the other day, but instead I'd get in a nightbus to Iwokrama River Lodge directly after arriving in Georgetown, getting some dinner, getting some sleep, waking up at 5am due to pick up at 6am for the airport. Uff!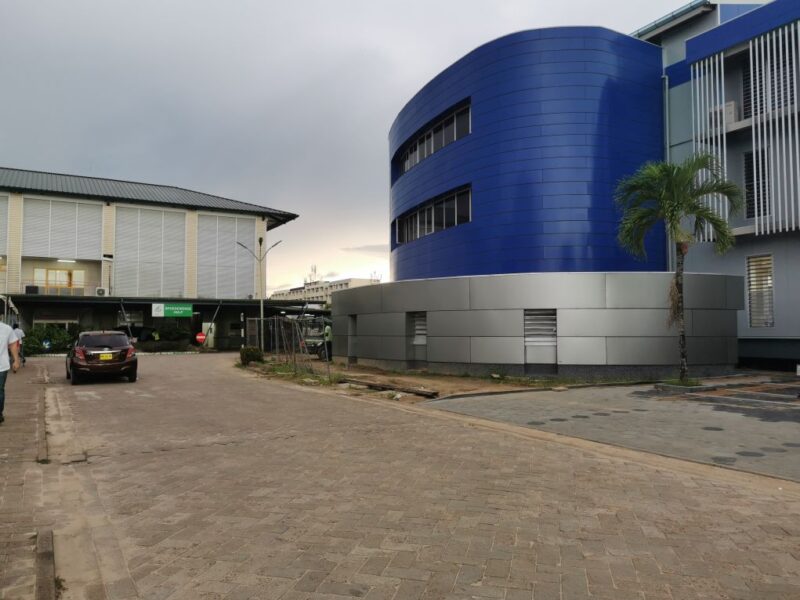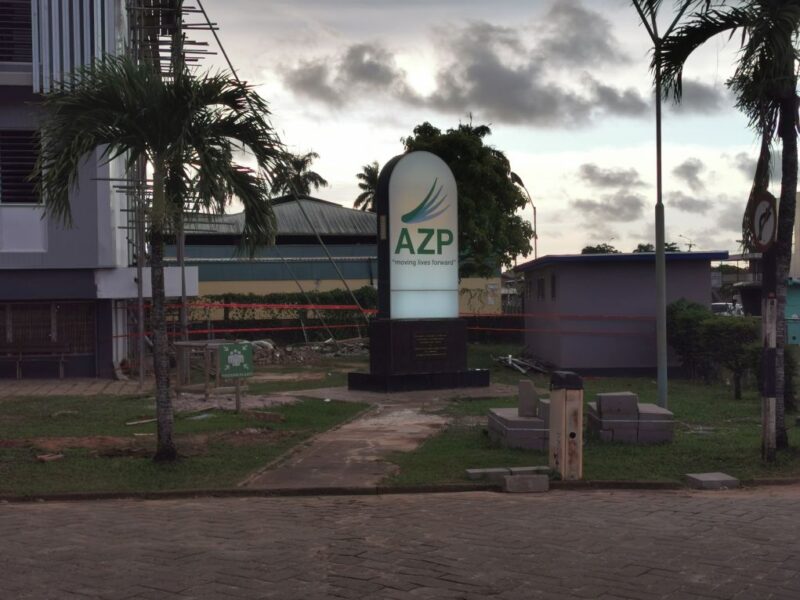 Doing a covid test in Guyana
Scheduling a covid test in Guyana (Georgetown)
Scheduling a covid test in Guyana is absolutely not necessary. You just go there, do the test, wait for your results to be sent – check!
Nevertheless, if you do not want to queue, an appointment would be perfect. You can make appointments in the Sheriff Medical Center (they are on Facebook) by sending them a message, calling them or writing a WhatsApp. The number is +5922251495
Cost of a covid test in Georgetown, Guyana
The PCR costs $15.000 (about 70 USD) and the antigen costs $6.000 (about 30 USD).
Procedure of doing a covid test in Guyana
It was on my way back from the airport from Lethem to my hotel in the city center of Georgetown that I had my covid test done. Because of the fact that I had an appointment, this was basically done within 20 minutes.
About 1,5 hours later, I received my covid test by mail.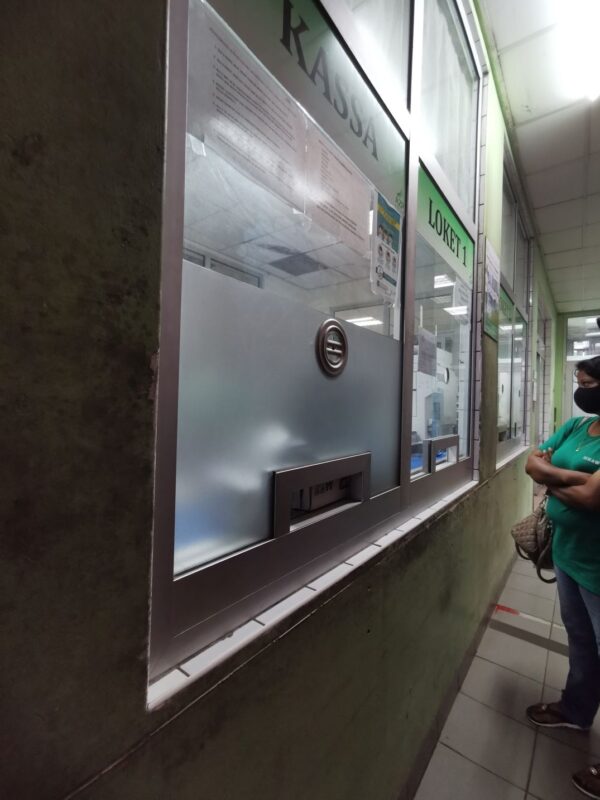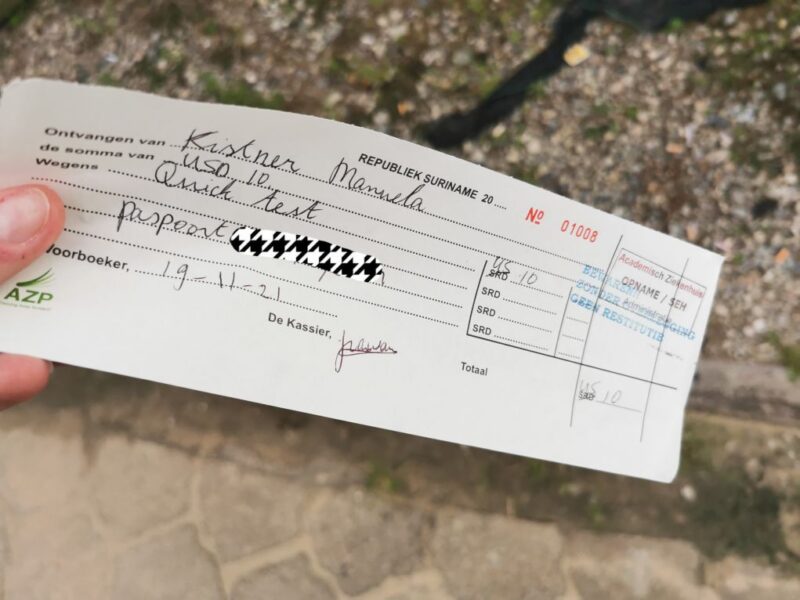 ——————
Blogbeiträge über meine Reise durch Suriname und Guyana
Wissenswertes über Suriname und Guyana
Packliste für eine Reise mit Handgepäck – Einreise nach Suriname und Guyana (Papiere, Impfungen, Ablauf) – Doing a covid-test in Guyana und Suriname – Wissenswertes über die beiden Länder – Highlights in Suriname und Guyana – Fakten über Guyana – Fazit meiner Reise durch Suriname und Guyana
Reisestationen Suriname
Paramaribo – Danpaati River Lodge – Aktivitäten im Amazonas Regenwald in Suriname – Reise-Fazit
Reisestationen Guyana
Georgetown – Busfahrt von Georgetown nach Iwokrama/Lethem – Iwokrama River Lodge und Iwokrama Regenwald (Amazonas Regenwald) – Atta Rainforest Lodge und Canopy Walk (Amazonas Regenwald) – Surama Eco Lodge und Dorf (Savanne) – Kaieteur Wasserfall (Savanne) – Orinduik Wasserfälle (Savanne) – Reise-Fazit
Vlogs während meiner Reise
Vlog #1: Best of Suriname – Vlog #2: Best of Guyana – Vlog #3: Fazit meiner Reise durch Suriname und Guyana